791 Queen: Fontbonne Place
We review the architecture of social housing on this site. "Review" does not mean "trash." We call it as we see it, and sometimes we really like a building, as is the case this week, where we consider a tidy little site on Queen just east of Broadview.
In fact, it's so tidy that – rather like the subneighbourhood it sits in, Riverside – the building has its own name, Fontbonne Place. It is surely the sole building in Toronto at the intersection of five streets all at once – Boulton, De Grassi, Strange, Woodgreen, and Queen. (Yes, Strange Street.)
Fortunately for the Free City of Leslieville, Fontbonne Place has actually been documented – by its owner, the Sisters of St. Joseph of Toronto.
Since it belonged to the us, our Sisters were asked at a 1999 town hall meeting what they wished the space to be used for. "Affordable housing!" was their clear response.

Two storeys were added to the existing main-floor space and basement. The renovation and expansion allowed for the creation of 18 affordable housing units. An additional unit houses three of our sisters, who would be a presence in the building.
Overall, this building is not only pleasant to look at, it's a salubrious contribution to what was already the nicest part of Leslieville.
Here's the quotation I allude to below. Joe Fiorito, "Today, 18 fewer women will be homeless," Toronto Star, 19 March 2003:
"I didn't have any furniture. I had some clothes and shampoo. There was a bucket of welcome stuff – tissues, tea bags, coffee, cream and sugar – waiting when I got here. The first thing I did, I sat down in the living room and cried. Then I made a cup of tea. And I must have put my key in the lock five or six times to make sure it fit."

Gail M. had just moved into a one-bedroom apartment. It was clean and new, and it was hers; she had a lease to prove it. But she hadn't had a place of her own in years, and it seemed too good to be true.

It took her a few days to work up the nerve to check out the neighbourhood – the deli down the block, the bookstore and the secondhand shops across the street – because she couldn't shake the notion that someone would change the lock on her door while she was out. [...]

Fontbonne Place opens officially this morning. Which means that officially, this morning, there are 18 fewer homeless women in Toronto.
Critique
Where, exactly?

791 Queen St. East, east of Broadview at the intersection of four streets

Who owns it?

Sisters of St. Joseph

How many units and residents?

18 units

Architectural and building history?

Opened in 2003
JOE: So this is one of those do-gooder projects, which I suppose is uncharitable and applies to every building we deal with here. Except the co-ops maybe.
IAN: Well, I don't know that it's an uncharitable thing to say.
— You seem to have both Shift Lock and Caps Lock on this computer, and I haven't seen that since Victor 9000 in 193.
— What?
— You were just there, Ian.
— I know.
— The story goes that this was an old building run by the nuns. They polled their sisters and decided to expand the building by adding, if memory serves, three storeys, turning it into affordable housing for underhoused or homeless women. I remember the Toronto Star article, that I can't find now, explaining how one new resident kept putting in and twisting her key, marvelling that she had a key to her own place.
— What a strange little anecdote.
— It's not very strange. It's not very strange. Sometimes I can't believe I have a roof over my head. There's something going on with your frigging Caps Lock here.
— I told you not to use that keyboard and mouse.
— Your Shift key is sticking.
— Yes, but that's not the only problem.
— OK, you said that was a nice picture. Which one? This very one we are looking at now?
— The Queen Street view. [Reads] So it's actually at two corners, then.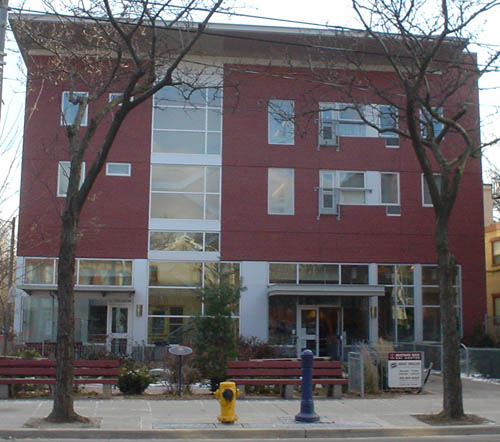 Front view on Queen St.
JOE: No, it fronts right onto Queen, at a really good location, except for shopping.
IAN: And here?
— That's a driveway and, alongside it, a yard full of used cop cars. It actually is a street.
— It is a street. Look.
— Yeah, Strange St.
— Strange! Yes! It's called Strange.
— It's a glorified driveway. Come on.
— OK, there's a dental clinic, some kind of strange building at the rear with what look to be water tanks or something.
— I have photos of those, but they're not very good. It's just the rest of the building.
— Well, that's what I was going to ask. You said this was an addition. Where exactly is the old building?
— I dunno. I just work here. [Argument over keyboard] Can we get back to the topic?
— Yes. Seriously, if this is an extension to an existing building, I don't see the existing building.
— I seem to remember they built up.
— All right, well, I just think this building's great.
— Is it just me or does the awning angle up to the left?
— It appears to, and quite possibly does.
— Yeah, it's gotta do that.
— It could be a trick of the photograph. There are all kinds of very well-handled and also, you know, sort of fortunate elements to this site.
— Like the setback.
— Setback. It's just great. I mean, you get two street trees, the benches, the garden. "Garden recon." This.
— Yeah, it's a courtyard, really. Though I don't understand where it is.
— It's right in front of the building.
— Yeah, it's right in front of the building.
— Yeah, it's really great.
— The blue brick is kind of weird.
— But even the view from here is nice.
— It is. It's a good location because it's in "prime Riverside," as they'd say, right around Boulton/De Grassi, as it's always called.
— I mean, how many of these buildings have had well-considered landscaping, or any landscaping at all?
— And the blue brick picks up on the theme of the relatively recent sidewalk upgrades in Riverside, which have an undulating pattern of blue brick on the outside edge.
— Also have the blue bollards.
— Yeah, but those are navy. Actually I find the chalk blue much too bright and artificial.
— Besides which, it makes it look like a track and field running course.
— It looks chalked on. But it isn't. They're actually blue bricks.
— They'll fade.
— What I don't like about this building, which isn't very much, is that it has two entrances. At least. The smaller, less-conspicuous one is the residential entrance. I completely forget, even after being there three times, what the right-hand door does. Something to do with services or whatever.
— So. On the west side there's this lovely glass curtain wall with a lovely awning and a door. An entrance.
— That's not the west side.
— Yeah, it goes like that.
— It's not the west side, but anyway.
— On the left side of the front, you are saying it goes to –
— The apartments.
— Ah. Well, that's not bad. I mean, it's not bad. What's strange is the elevation on Strange St. What's that door for? I mean, that's probably an emergency exit. Because you can just... OK, I can't figure out.
— Well, this seems to be a less tedious and nauseating use of that goddamned buff brick, inevitably matched up with red brick. Cliché, ou quoi?
— Part of what makes the difference is the metal cladding. It really helps to break up the front, for example. The designer wasn't afraid to do some interesting things.
— You mean in the awnings over the entrances.
— The awnings. The fact that it's a wall of glass along the Queen St. side. And that's the first level is clad in metal. All kinds of interesting stuff going on there.
— And let's talk about Woodgreen Place, which I think is just great. The adjoining building there looks like it's really nice, and it pretty much is. So you've got –
— That building?
— Yeah. So you've got two nice buildings with this secret passageway between them that leads to about six row houses and a few odds 'n' ends. And you can't turn around there if you drive. You have to back out.
— Yes, I know from personal experience. I don't think the adjoining building is "nice"; it's just reasonable. Actually it points out a minor problem, because what would be better is if the neighbouring buildings also took advantage of the courtyard.
— How?
— But we're obviously looking at the side of a building here. It's not integrated into this courtyard in any way. It just looks like the side of a building. There's even a fire escape on there.
— So there is.
— But this is just, you know, this lovely little cranny.
— And the building at the far corner in there actually matches the Fontbonne Place. I have a suspicion that the nuns also own that and rent it out.
— I wonder. The townhomes – and that's what I'm assuming that they are – are not quite as well done as Fontbonne or whatever.
— I have other photos of Woodgreen Place, and I may put them up now. The rest of the dwellings are kinda shanties.
— Mm. That's true. Yeah, the west-facing lower portion of the elevation with windows looking out into the car guardrail, that's not so nice. But what else could they do?
— Paint the guardrail. Or maybe galvanize.
— [Whispers] It's already galvanized. But when you go higher up, it's just great. I mean, they must have fantastic views, and little Juliet balconies, and interesting window configurations. Good use of inexpensive block. You know? Is it a shelter, a residence, apartments? What is it?
— Subsidized apartments. Big step up if you're homeless.
— Ah. Subsidizes apartments for homeless women. Huge step up if they're homeless.
— I haven't finished explaining why that's a good location. It's not great for shopping, although you can walk up to Gerrard and go to Chinatown, but if you're gonna do that you might as well go to the Loblaws on Broadview. The Riverside section of Leslieville is the closest thing to a consistent streetscape.
— Yes, it's true. The buildings are taller, and originally built as mixed-use office/commercial. They're not old broken-down houses.
— And they shot a lot of Cinderella Man there. They took over the whole street and turned it into the Depression in New York. A couple of stores kept the old signs, some of which had bad type, or historically incorrect type.
— Dig-dig-dig!
— OK, anyway, so.
— I'm disturbed by something here. But go on.
— No. What?
— Well, there appears to be a chain-link fence around the courtyard. That's fine.
— There are gates.
— But it appears to terminate in the middle of a window beside the door. It's not at the edge of the building. See? It's very strange.
— No, that's not correct. I guess I'm going to have to do a fourth photo shoot.
— I'll look at the Queen Street –
— Hold on. Um. That is a zone of the garden on that property. And the fence isn't chain-link, and it has one of several gay little gates on it that are actually kind of nice. So you can walk through or whatever the small westernmost garden zone, then open the gate and go into the blue-circled courtyard. It isn't the way you described. I've done that walk.
— There are gates and they're nice. From the courtyard , the gates lead into not much more than a strip of lawn, and the fence is in fact chain-link.
— Well. They didn't cheap out is what I'm saying.
— Well, no. Generally, no. There are just some weird things that probably had more to do with adjusting to bylaws. This is another one of those subsidized housing projects that just about anybody would not mind living in. Of course, we're pretty much neglecting the east side and that they'd be over across from police cars.
— Ah, but they've got Bonjour Brioche across the street, if they want to go from being homeless to having bruncheon, and the bridge there is actually kind of nice. Though you do get the trains, obviously, and that's where they blow the horn. Whistle.
— Yes, of course you're right about the neighbourhood. You live there.
— No, I don't live there.
— -ish. I'm talking about the building and the suites and the people that live in he building.
— OK. I'm talking about the neighbourhood.
— OK. The eastern elevation... the best you can say about it is it's not a disaster. It's... tidy. I just can't imagine the view is very nice from those units.
— On the third floor you might see the top of the train tracks.
— Possibly. And look at this, you know –
— Seam?
— Giving the offices more presence than the residences. As if they have very tall ceilings, which they might, but the top of the windows stop halfway down that wall. It's just not well resolved.
— I betcha that's the remnant of the original building.
— Yeah. I don't see an original building, but you could be absolutely right. Mm. Mm-hmm. So. The red-brick and metal-clad block at the front is an addition, guessing up the elevation, and the top two storeys area an addition. Wow. I'm impressed. You know? Pretty good when you consider what that little warehouse kind of building probably used to be.