A Starbucks in Leslieville: What, me worry?
A Starbucks is coming to Leslieville.
Let's look at some facts before anybody freaks out
One day in April (2006), I rode the 501 streetcar along Queen past Logan and saw an old coot standing on the sidewalk smoking a fag. He seemed to be the owner, or at least the tenant, of one of the storefronts behind him, all of which were gutted and dark and all of whose windows were being boarded over with plywood before my very eyes. I immediately thought: Starbucks.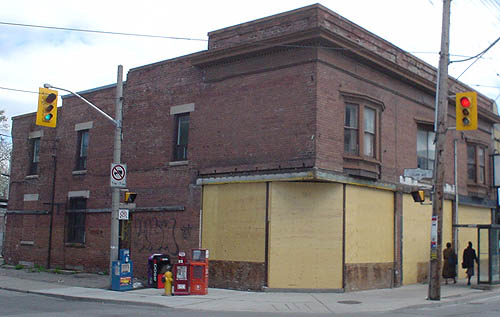 Corner view, Queen & Logan, 2006.05.06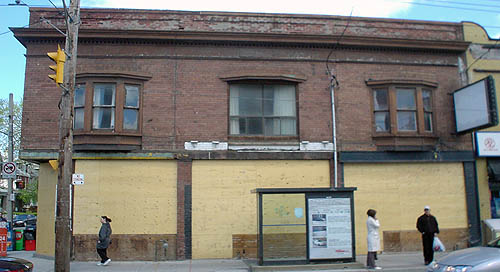 Elevation, Queen St.
And indeed it shall be. Let's check the press coverage.
Leslieville Cheese Market business plan (an odd choice for a newspaper article)

A great opportunity that we can capitalize on with fast action is the slated construction of Starbucks on the same block. This is rumoured but not publicly confirmed.

I phoned the selling agent and asked him to confirm this. Chris Kelos at Coldwell Banker Case Realty confirmed that a numbered company in Vancouver bought the first three storefronts at the north east corner of Queen and Logan. They are a property management company owned by Starbucks, and as Chris says, "They have every intention of opening a Starbucks location by summer 2006." One landlord that I have been speaking to is not aware of this. A shop owner has heard about Starbucks and welcomes them, but doesn't believe it to be more than a rumor.

On the northeast corner of Queen and Logan Streets in Toronto's up-and-coming Leslieville neighbourhood, three men are demolishing a wall separating a pair of vacant storefronts and perhaps, unwittingly, raising the worth of nearby homes.

The construction workers are building a Starbucks Corp. café – and anyone considering buying or selling a home in Canada's frothy real estate market would be wise to take note. [...] "When I see a Starbucks going in, I rub my hands together because I know property values are going up," said real-estate agent Diane Walton.

Company executives work with networks of real-estate brokers and agents, and when the coffee chain decides it wants to expand into a new "trade zone," it asks the real-estate professionals to find the right location.

"Sometimes we're a little early, but that's okay. We're going to be in business for a long time," Moore said.

Starbucks favours corners. It also wants to be on the correct side of the street to catch commuters. "We're primarily a morning business so we like to be on the morning going-to-work side of the street instead of the going-home side," Mr. Moore said. The Leslieville store is a case in point, sited to scoop up those heading west to the city core. [...]

In the downtown's west end, the Drake Hotel spearheaded the revival of a gritty section of Queen Street. The popular restaurant and bar attracted other retail businesses to the area, including a Starbucks.... While under construction, the Starbucks was a frequent victim of a persistent graffiti artist who kept spray-painting "Drake, you ho, this is all your fault" on the store.
Let's nip that kind of overreaction in the bud before it starts here, shall we? The purpose of this article is to publish facts about Leslieville and comparable neighbourhoods to preclude a kind of dooneyization or drakification before it ever happens here.
First of all: Gentrification
If you're worried that a Starbucks augurs some kind of "gentrification," well, what does that mean? Fewer poor people and more rich people? Nobody's rich in this neighbourhood. What it means, at best or worst, is more upper-middle-class people. It does not mean fewer poor people.
The numerous, and sometimes vast, blocks of social housing (which we have been reviewing for months) are going to stay here indefinitely.
So are the small apartment buildings and rental apartments in houses.
Low-income homeowners may find their tax assessments increasing in coming years, but tax assessments notoriously always increase. Those same homeowners have a golden opportunity to escape poverty by selling their shanties to upper-middle-class buyers at significant profit.
Really, what else do you think is going to happen? Some arsehole in an SUV is gonna knock on a poor person's door and say, "Excuse me. I own this place now. You have 15 minutes to leave"?
The whole concept of gentrification is built on a set of lies:
That housing is a zero-sum argument: A person with money moves in, hence a poor person must move out
That richer people can destroy or simply have some kind of sway over poorer people's housing. It's untrue even under the auspices of the curiously-named Tenant Protection Act. There, the sole relevant scenario is purchasing a house that includes a basement apartment and either:

renovating it, which requires the filing of approved building plans and which gives the existing tenant first option to return on request; or
taking over the apartment for homeowner use, which requires legal notice

That richer people moving into a neighbourhood are invading or colonizing it: Some people are actually moving back to their former or ancestral neighbourhoods
If you believe any of those lies, then you also probably believe that any retail business that caters to someone with disposable income, or a university education, or taste is a harbinger of doom for poor people. If so, you are wrong. You also aren't actually observing what happens in Leslieville, a quintessential mixed-use neighbourhood that is going to stay that way indefinitely.
Let's do a comparison
The Starbucks at Queen and Logan will be the first such coffeehouse in South Riverdale. There isn't even a Second Cup until you pass Woodbine, though there are two of those and fully three Starbucks in the Beach area. If you believe this addition of a Starbucks spells the beginning of the end of Leslieville's character, why don't we do a comparison against neighbourhoods you probably think are thriving examples of local small business and vibrant street life?
Let's take a look at what actually is going on in the Beach, by universal agreement a successful and distinct neighbourhood, and in the Annex, a longtime model for Spacers, Jane Jacobs acolytes, and small businesses.
Recall that, circa 1995–1996, the Annex was the neighbourhood where the evil Starbucks was beaten in its attempt to oust the longstanding restaurant Dooney's. While that tale is often retold as if it were a Nordic saga, scarcely anybody seems to take note of the fact that Dooney's is overpriced, drafty, and hostile. (It's the only restaurant I've visited – in five countries – that actually mocked me for being vegan.) Few take the time to point out that Starbucks moved into the Annex anyway.
How well are these two neighbourhoods faring in the battle against gentrification, using number of chain stores as a proxy? How many chain stores are there in Leslieville, the Beach, and the Annex?
Instead of airy-fairy philosophizing, I simply went out and counted all the chain stores on three main streets. All chains of all kinds, even local chains like Future Bakery, were counted. (I'm sure that what opponents are really griping about are American chain stores, but I'm not gonna play favourites.) Even if there are only two stores in the chain, as with Midoco in the Beach and the Annex, it counts. So do banks, restaurants of all kinds, newsstands, and hotels. The only businesses I did not count are unique local businesses.
You can read the lists yourself, but the numbers are simple:
Leslieville (Leslie to Broadview along Queen): 12 chain stores
Annex (Bathurst to Avenue Road along Bloor): 42
Beach (Beech Ave. to Woodbine along Queen): 62
Doesn't the data suggest that more chain stores lead to healthier neighbourhoods? Well, you're not going to believe that, are you? So let's put it another way: A healthy neighbourhood is one that provides a lot of services. Ideally you wouldn't have to leave the neighbourhood in order to serve your day-to-day needs. Perhaps some of those needs – like grocery shopping, photo finishing, or banking – can realistically be served only by chains.
Does this mean that Leslieville is ripe for colonization? Of course it does. But Leslieville has a unique geography that the Beach and the Annex don't have. As I've already documented, Queen St. East is too broken up by garages and gas stations, social housing, and light industry, not to mention parkland, community centres, and private housing, to ever become a Queen West–style continuous retail strip. You could convert every restaurant to a Starbucks and the street would not change significantly.
Improved service would help
Something I'll be writing about on this site in due course is an analysis of how awful Leslieville's restaurants are. I can barely eat out in my own neighbourhood. If it's not the food, it's the ambience or outright harassment by owners (viz. Gio Rana's wagging a finger at me and barking through his mole-encrusted nose "Settle up at the bar!" – and he did that twice in one visit).
Starbucks stands to improve Leslieville. The sole existing coffeehouse is Tango Palace, which I've visited on scores of occasions. (Yes, I know about the new place called Mercury, but it's so stark and undercapitalized it won't last through winter.) When I wasn't being served espresso that was at once bitter, crema-free, and dilute, chased by a "glass" of water contaminated by coffee grounds and served in a mason jar, I was being snubbed by the spindly gay barista, who spent two years taking out revenge on me for refusing to go along with his risqué gay jokes the first few times he served me. (Whenever he passed me on Yonge St. or saw me on the patio of the Eagle, he'd lock eyes with me, cover his mouth, and immediately start talking to his friend.) Or the other gay barista who had a crush on me. Or the co-owner, who seemed on the verge of banning me for life when he asked me what I thought of his new tables and I told him they were too low.
And, you know, the place is a dump, with holes in the floor; threadbare and wobbly chairs; an aquarium passing as a front window; gloom; awful music; a men's room without a lock on the door for two straight years and a ladies' room whose door barely swings closed across the lumpen floor; tippy, too-close tables; a plethora of dogs in the restaurant (yes, I was the one who complained); and on and on and on. Tango Palace is a great idea as a local coffeehouse with a lot of idiosyncracies. The idiosyncracies are its problems.
If you like the place, fine. Keep going there. But I know from having coffee in the Beach every morning for three years – there being no viable option closer to home – that Starbucks is attractive in some cases. The so-called Starbucks 1 in the Beach, at Queen and Waverley, is a well-designed outlet with definable seating zones (two front-window areas, couches around a working fireplace, two back corners).
I've never been badly treated in that place. The regular staff, including a model-calibre blond with a black neoprene armband covering his tattoo, know me and my order and are always kind and gracious, and they are apparently sincere in that respect. I stay as long as I want and have gotten surprising amounts of work done with the aid of the store's numerous power outlets. They take debit and credit cards. Contrary to reports of other stores, this Starbucks is not kept at too cold a temperature, nor is the music too loud. There is still no explanation as to why the place lacks an automatic door even after an Ontario Human Rights Commission agreement and a fire-related renovation (I ask about this every month), and the unheated restrooms are a disadvantage, but in all meaningful respects the place is a model of just how pleasant a Starbucks can be.
My former haunt, the Suction Cup at Queen and Wineva, annoyed me too many times with its skipping, or overloud, or too-often-played compact discs and dilapidated furniture. The owner is simply too cheap, a barista kept arguing with me, and nothing changed even after I complained to a couple of Suction Cup reps who happened to be visiting. I eventually gave up on it – and also on the Starbucks 1, the latter for the simple reason that I found actual Illy coffee at another location in the Beach. The ambience is worse, but I am greeted with equal affection. I am treated as a valued customer rather than as an annoyance, as was true at Tango Palace and the Suction Cup.
Leslieville already has coffee shops and bars that attract low-income people, many of them vulgarians and borderline drug dealers who look fresh off the boat from Newfoundland. (I'm a poor boy from New Brunswick; I know the type.) By implication, opponents of gentrification are opponents of establishments that cater to people other than these. But the establishments that do cater to the Baymen of Leslieville aren't going anywhere. Is it so much to ask for some of the rest of us to have a pleasant place to sip a cup of coffee?
I call bullshit on any fears that the Starbucks will harm Leslieville. If they don't screw it up, frankly the Starbucks seems like something to look forward to.
And one final question
If a hypothetical Starbucks attests to impending gentrification, why don't the snobby and alienating Bonjour Brioche, and the upcoming exercise in ladder-climbing known as the Leslieville Cheese Market, prove it's already happening?
---
Updates
Real estate
(2006.08.13) The site spent a very long time undisturbed, then a longer time sniped with posters (first ones: Madonna!). Rumours were afoot that the whole deal had gone south, particularly after a Bosley real-estate sign appeared on the easternmost panel.
But no. It's happening.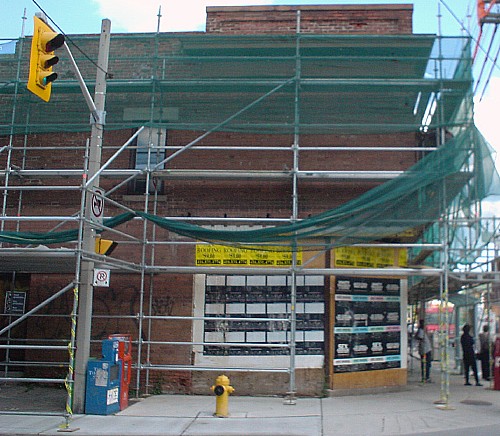 Side view, August 2006
The Bosley sign does indeed indicate something is for rent, but that something is apparently separate from the Starbucks "space."
Press coverage
(2006.09.04) The Springfield Shopper Beach-Riverdale Mirror interviewed me for a squib on the upcoming Lesliebucks (Joanna Lavoie, "Rumours brewing of a Riverside Starbucks," 2006.08.16):
Joe Clark, a Leslieville-based journalist, author, and accessibility consultant, runs a Web site about local issues and happenings. Called the Free City of Leslieville... the site has, among other things, been keeping tabs on the potential arrival of a Starbucks at Queen St. East and Logan Ave.

[...] Clark said he thinks a Starbucks would be a good thing for the area. "It'll be a benefit to the neighbourhood. There's no reason to fear Starbucks," said Clark, underlining the gentrification of Riverside and Leslieville, like what's currently taking place in Queen West and West Queen West, is a non-issue. With mixed uses throughout the area including a variety of social-housing developments, light industry, garages, gas stations, parks, and community centres, Clark assured "Queen East will never become Queen West."

[...] Starbucks representatives would not offer any details until at least the fall about a possible new location in the area.
Shop windows and superexclusive inside view
(2006.10.13) The place has glass windows along Queen and Logan now: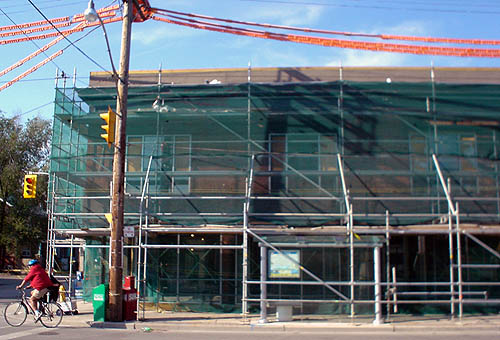 Just-barely-visible vitrine, October 2006
And did you know I snapped a few photos inside? They're nothing to write home about. This thing's a long way from opening day.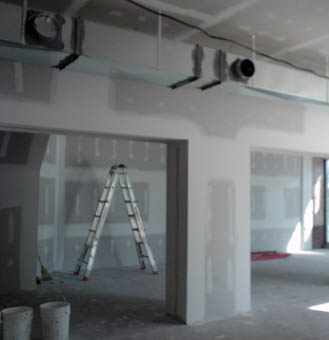 How to build a Starbucks from scratch
In which the actual store is revealed
(2006.10.21) This week, they took down the scaffolding.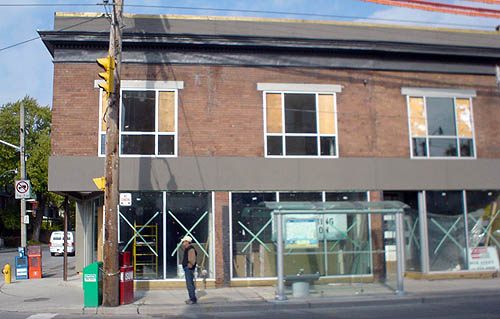 This is what a Starbucks in Leslieville looks like
Plus they put up an OPENING SOON sign. There goes Starbucks' plausible deniability.
T minus 2 days to opening
As of 2006.11.21: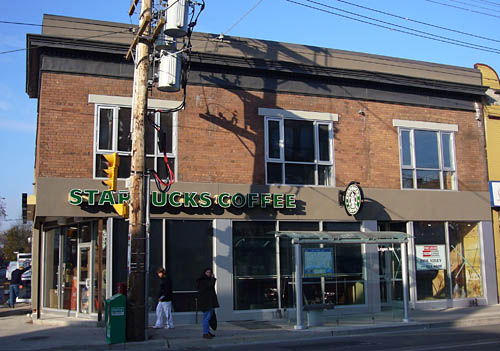 Yes, they really did blow out the second-floor bay windows. Does that imply upstairs seating? (I haven't managed to spot a staircase or elevator inside)
And here she is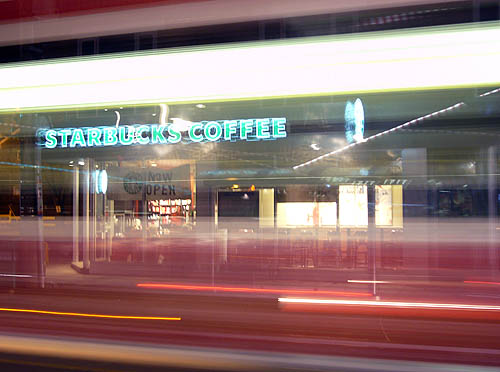 The night before opening. Or, technically, the night of opening, as when I walked by on 2006.11.23, customers were already seated inside.
There's more coverage in the offing for next week. You may be surprised.
And here is that coverage
"Starbucks spat all steam, froth" by Joe Fiorito, Toronto Star, 2007.01.03 (blog response).