Three buildings this week, part of two complexes that show the wrong and the less-wrong ways to build "conventional" social housing.
1555 & 1575 Queen St. East
Where, exactly?

1555 & 1575 Queen St. East, just west of Coxwell

Who owns it?

Toronto Community Housing Corp. (né Metro Toronto Housing Association)

How many units and residents?

60 units each (official total: 121): Each 38 one-bedroom; 34 two-bedroom; 48 three-bedroom; 1 three-bedroom wheelchair. (Unsure where the remaining unit goes.) Number of residents unknown

Architectural and building history?

Unknown
Apparently 1555 is known as the Don Summerville.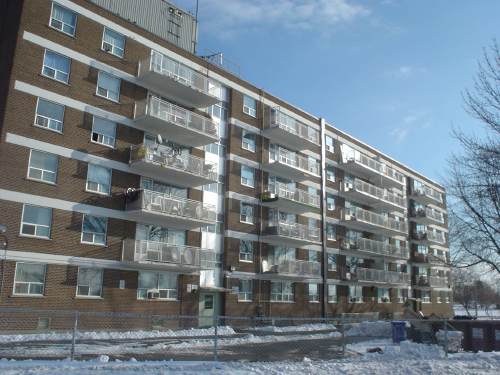 Front view, 1555 Queen
JOE: Well, the thing I always say about these is that anybody from any Western country would know they are projects right at the first glance. To say nothing of the old Communist bloc.
IAN: Why? Why do you say that? What in particular about these buildings?
— Well, uh –
— The fact that they're clustered like that is one thing.
— Yeah, and they're on an angle on this windswept parcel of land at a shitty corner right next to a McDonald's. I think the coloration is just awful, and you've got these searchlights on the corners. And I can't really tell where the entrance is. The balconies look more like prisons for some reason. And I guess because they're these squat brick buildings that have no joy whatsoever, I think.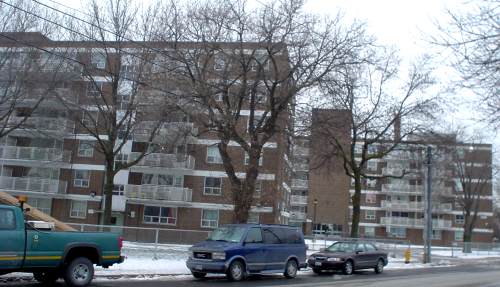 As seen from across Queen St.
IAN: There's no sense of entry. There's no sense of differentiation between the buildings. And, you know, that really contributes to it looking like you say, a project.
JOE: And they have these giant cellphone repeaters on top of them. Because they're in a really good location with a line-of-sight all the way around up to Dundas and well into the Beach, not to mention back toward Leslieville. But the whole appearance is that these people are so unimportant we can just plop down a tower on top of their building.
— Oh, so the tower's not for the people in the building. Well, that's awful.
— And they didn't do any work at all camouflaging the elevator returns and the vents and stuff on top.
— I mean, there's no attempt at gussying it up, except maybe for the white bands at each floor. I mean, it's really a '60s version of Regent Park.
— Shouldn't there be more green space in there somewhere? It seems like really wasted space. Plus the fences. Why are there fences between these two buildings if they're together? OK, and the other thing is if you go by there any weekend during good weather you'll find these total sad-sack poor people, poor for generations, sitting in their scooters trying to sell their old videos and albums and broken-up toasters 'n' shit. It's like St. Mark's Place in the '80s but worse. And you get to smell the exhaust of the McDonald's all day. And it's a drive-through McDonald's; it doesn't even want your patronage.
— Well, there aren't any exclusively drive-through McDonald's, are there? You don't have to type that.
— It does seem like everybody gets a balcony, though.
— You don't know that.
— Enough satellite dishes?
— Because they're likely several different sized units, right? What's those lines there? Are those exterior gas pipes? Or protected electrical for the – anyway, it looks like they have conduits outside the building.
— I just love the word "conduit." And "armoured cable." Which is probably what it is. Or armoured pipe or something. Imagine living on the ground floor there.
— Satellite dishes on the balcony. Did you see those?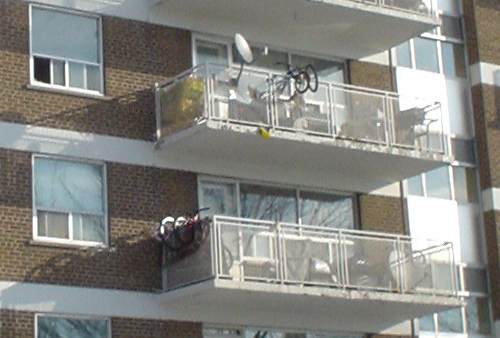 Grey-market dishes?
JOE: Grey market, no less. They're probably sitting around because they were turned off.
IAN: Look how awful that entrance is. It's just terrible. Maybe it's a fire escape, but it's just awful. From a distance, the building looks like a typical 1960s International Style/Modern/whatever apartment building. There are a lot of private apartment buildings that, from a distance, don't look much better than that.
— But this one never gets better.
— No, it doesn't. And, for the reasons that you point out, like lack of green space, the fences that seem to separate one building from another, and – I already said – they're all the same.
Eastview Park: 1080 Eastern Ave.
Where, exactly?

1080 Eastern Ave. at the corner of Lake Shore Blvd.

Who owns it?

Toronto Community Housing Corp. (né Metro Toronto Housing Association)

How many units and residents?

41 units (all RGI): 11 bachelor; 29 one-bedroom; 1 two-bedroom. Number of residents unknown

Architectural and building history?

Unknown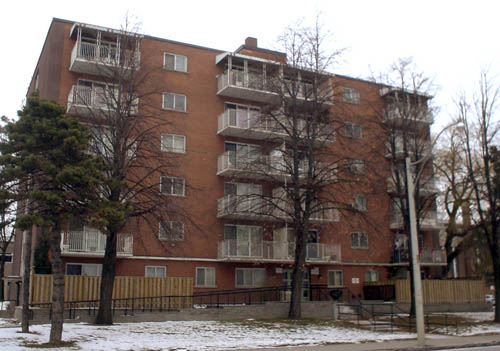 Front view
JOE: So now we go around the corner to Eastern and Coxwell, which is less bad. This just looks like an inoffensive apartment building to me, with a wheelchair ramp.
IAN: What's with the metal awnings on the upper balconies?
— Well, what are they supposed to have?
— They could be left open. They just look really cheap and ramshackle.
— And columns holding them up.
— They look like an afterthought.
— Well, they've got the disadvantage of being at something that's barely even an intersection, and they're a tiny block away from the very unpleasant Queen and Coxwell, but they're right across the street from the giant park that the Pleasantville development had to put in, which has no trees or anything and looks like Teletubbyland, but is at least a park. And kitty-corner is a baseball diamond.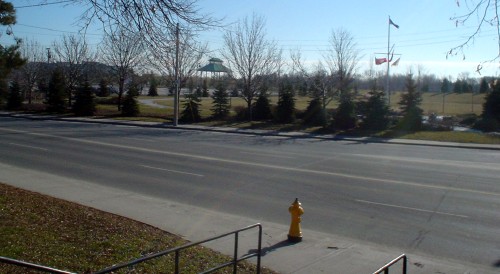 Woodbine Park, as seen from 1080 Eastern
IAN: One nice thing about this building is it has actual trees in the yard. I like the wooden fences, too; they make it look more domestic. But that's really about it. It's a pretty simple building. It's not too big. But it's definitely basic model.
JOE: I mean, it's "Same planet, different worlds." You could be a hundred feet over and be living in Soviet Russia, or you could be in here in something resembling a normal building. And when you look out the window, you can barely tell you live in a dump – well, a dumpy location. A non-location.
— I think really the only thing – well, maybe not the only thing, but what distinguishes this from the last one is the fact that it's one building and that it's one small building.
— With people who are less unhappy.
— Now, how do you know that? Oh, I see.
— I don't. I'm just assuming. Wouldn't you be?
— Do any of the units face to the rear? Obviously they do. What do they overlook?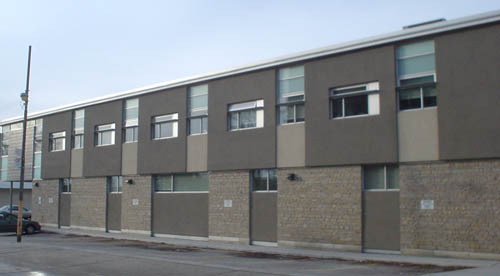 Queen East Community Health Centre, rear view (as seen from 1080 Eastern); Ian dubs this view "awful"
— I doubt they "face" to the rear, but they may have windows. It's the Queen East Community Health Centre, a beautiful new building with fucking Arial signage in permanent indestructible metal. That's also a pretty nice thing to look at, as these things go. And if you don't swivel your head you never notice the Money Mart or the Tulip.
Epilogue
Across the street from 1080 Eastern is the Teletubbyland of Woodbine Park, which has no Web site I can find (and is not detailed in the City of Toronto's parks listing). Installed, according to what I have read but cannot now cite, as an amenity partly in exchange for the giant Woodbine Park development, it's an immense place of rolling lawns, with a playground and its own pond but scarcely any trees.
The park also has a nicely-constructed public washroom with shaded rest area and fountain.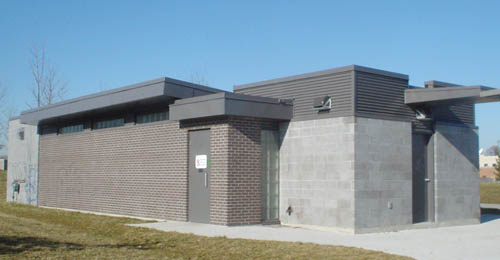 View from the south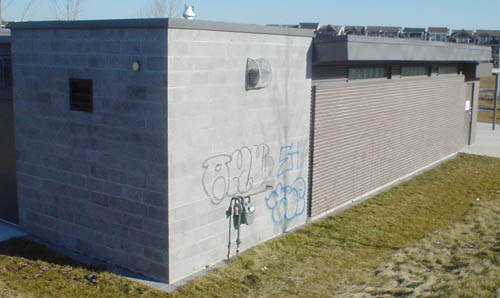 View from the east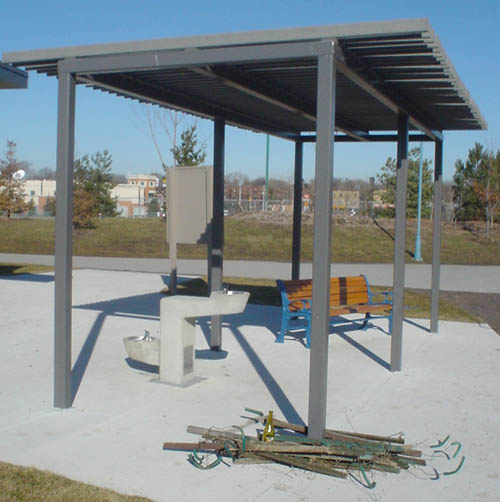 Quasi-gazebo
In other words, for residents of 1080 Eastern, the bathroom in the park across the street built by rich people is nicer than their own building.