126 Coxwell Ave.
Where, exactly?

126 Coxwell Ave. at Robbins (north of Dundas)

Who owns it?

How many units and residents?

14 units; unknown number of residents

Architectural and building history?

Unknown, but it's a near-clone of 970 Eastern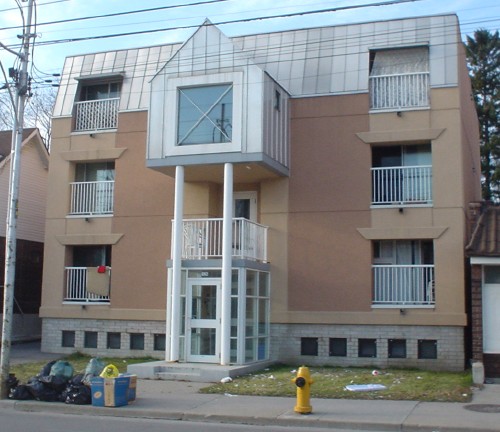 Front view
IAN: Even sillier, though. I mean, come on. Talk about a cartoon.
JOE: Um, well, it's not underground, but you've got these like home-handyman projects that masquerade as an entrance. Look, you've got posts, an enclosed glass vestibule, a little balcony for some godawful reason, then this like enclosed terrarium or something that looks like prefab housing for poor natives in fucking Iqaluit. And that's all one column!
— OK, this is not only postmodern, it's bad postmodern. It's like the architect, the designer, had a little bag of tricks and gimmicks he thought he'd throw on an extremely mean-looking building, and he thought maybe that will save it. For example, the row of punched windows inches above the ground. Does somebody actually live there? Doubt it.
— I don't. That's like the penalty box.
— And then there's the reference to the mansard roof, this time made out of some kind of steel.
— Well, I don't think it is. I think it's like some fashionable metal like zinc or something, but it looks milky and inconsistent, which is great with copper but just looks like, you know, off-the-shelf aluminum from Canadian Tire. It's not wearing well. Oh, and why is the centre window Xed out?
— Oh, that's probably a tensile structure keeping it in place, but it's just as fake as everything else.
— And they've also got barricades here.
— Look at the ridiculous little lintels here.
— Yeah, and they're upturned like a moustache or something Fiestaware or Art Deco or something. It's too jolly for the rest of the building.
— Well, everything about the building refers to something else. When you compare this to the first and second buildings we saw today , and it makes the point even clearer.
— What's the real name of that Santa Fe style I'm trying to put my finger on?
— Adobe. But you're not right about it. It's... close enough.
— Isn't it just like called Santa Fe style or something?
[Ian shrugs]
JOE: OK, so it isn't. Anyway.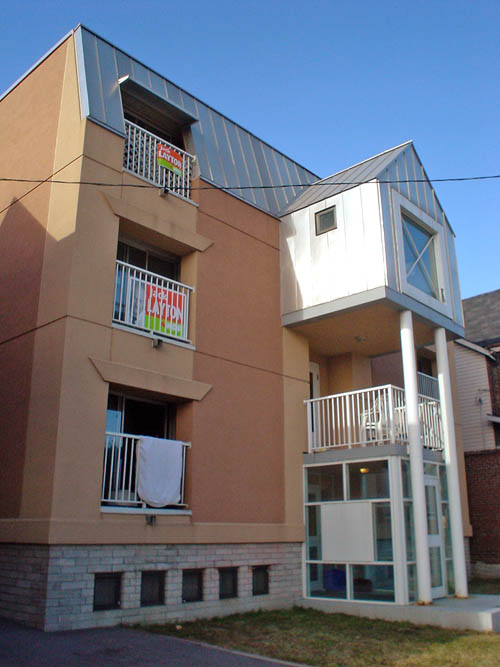 Three-quarter view
IAN: Same problem as the last building, although this one has a slightly more friendly entrance. It just has very little respect for the residents inside the building and the context around the building. Everybody's given their one stupid sliding window with a guardrail in front, and that's all. Much more attention was put into articulating the entrance, which is ridiculous. The entrance is like an exhibition pavilion, you know, of some expo. It doesn't make you want to go inside the building; it doesn't make you want to explore.
— And what's going on with the mattress on the top right?
— Is that what that is?
— Have they got like a grow-op or something in there?
— Well, it's the same problem as last time where one of the balconies was just overstuffed, but this is a little beyond that. I think this is just hilarious – that's somebody's like garage, right? Right up against it.