502 Eastern
(NOW UPDATED) A strange building on what I insist is the strangest block in Toronto, Eastern Ave. at Morse St. If that intersection rings a bell, it's because the Toolbox, an homosexualist leather bar, was there for something like ten years. It closed in 2004 and I was one of the few who said good riddance, because the peevish, hostile, dilapidated owners made non-drinkers feel actively unwelcome. (Yet they hosted regular bear nights even while complaining that bears didn't drink; their addiction is food.) I had a very dull summer a few years ago and walked over to "the Box," as I never even once called it or even thought of it as, several nights a week, keeping a diary that upset a few people whom I have now almost entirely forgotten. If nothing else, my claim to fame is that I was present when the cops busted Naked Night.
Anyway, while wandering the Toolbox's Back Forty, its "infamous" back patio "maze," an apartment building was always visible mere inches beyond the fence. It was actually a co-op, somebody told me, whose residents knew exactly who their neighbours were and what they were up to. Nobody in the co-op could quite look down from their windows into the patio, though it was visible from the hallway windows. Even then I wondered what kind of hell it would be to live next to a leather bar.
But is that a worse hell than the Hell's Angels? Because they're two doors down. Try topping this in Parkdale or in your own city: We've got a gay leather bar, a housing co-op, a shanty of a house, and the Hell's Angels all contiguous on a city block. (Did you know there's an elementary school around the corner, and two Macintosh dealers?) The Hell's is a brutish concrete building, with curiously solid-looking "planters" at the front edge that could not possible be reinforced concrete bollards extending deep into the ground. The front door is bracketed by a full-height L-shaped retaining wall, surely for enhanced privacy. The mailbox is clear plastic, which I'm sure is helpful in that it can be monitored by the installed security cameras, obviating unnecessary trips outside on days when no mail arrives.
Anyway, back to the Toolbox. The resentful failed owners eventually sold the place – if you were very observant you would have noticed the building was up for sale long before the bar closed – to a developer of Victorian tæunhæumes. The building, nominally named the Simcoe Hotel, has some kind of historical designation and won't be destroyed.
However, the zoning documents were a complete whitewash of the true history of the building. The city went as far back as its 18th-century incarnation as the Ayre Hotel to avoid mentioning that the building spent nearly the last two decades of its life as a gay leather bar. I made a deputation at City Hall (where, by dumb luck, I just happened to be) and got the record changed. City Hall staff would ultimately rewrite it to read as follows (PDF):
The Ayre Hotel (later known as the Simcoe House) was owned by several different groups over the years as a destination for food, lodging and drink. Toronto actor and director Al Waxman's family owned the building for over 40 years, starting in 1947. In 1987, in its centennial year, the building was purchased and began operation as The Toolbox, a gay leather bar. The neighbours, who had been dealing with the difficulties when patrons would leave the Simcoe House, were pleasantly surprised to find that the patrons of the new Toolbox were leaving the building quietly.

The Toolbox formed a steady diverse clientele and had a reputation as being tolerant, welcoming and accepting of all aspects of gay life. The Toolbox became an important centre of gay culture that was outside of the established gay neighbourhood in Toronto. In recent years the owners of The Toolbox decided to retire. The Toolbox, as a gay leather bar, did not continue, but the history and notoriety of the building remains in Toronto's history.
And Simcoe House's next-door neighbour is our subject this week, an anachronistic collection of four tall pods in pastel-coloured siding whose motto could be "Love the building, hate the hood." I mailed the superintendent of that building a letter asking for information, which returned with a letter carrier's scrawl that there was "no super box" for the superintendent. It's such a bad neighbourhood you don't even have a shelf you can leave stray letters on?
Ian was over at my place for this one, and we did nothing but argue over which pictures to look at, which arguments I have, for your benefit, excised.
502 Eastern
Where, exactly?

Eastern Ave. just west of Morse St.

Who owns it?

Unknown

How many units and residents?

19 units

Architectural and building history?

Unknown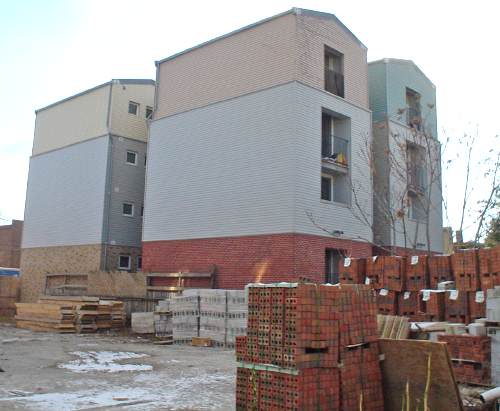 Rear three-quarter view
(Ian goes on at some length, in the midst of arguing, about how 502 Eastern is consistent with the "typology" of other buildings, like 970 Eastern and the Maddy Harper Lodge.)
JOE: Why, because it's two columns with a peaked roof?
IAN: Yeah, with one unit per floor on either side and an articulated entrance at half-level. The massing is the same: Two tall blocks with a split in the middle where the entrance is, whether it's a split in the middle or a line. In the case of Maddy Harper Lodge, there's a walk-through separation between the blocks. And at 970, there's only a superficial recessed articulation between the blocks.
— I really feel like I'm just taking dictation here. Why don't pretend we're having a normal review?
— You only just started typing after arguing about the relevance of looking at other buildings. So let's begin. You can put up the photos of the— They're great photos, by the way.
— Fine. So all I was going to say here is that this is the most interesting block in Leslieville, if not the whole city, because you've got the old Toolbox, which fortunately is closed, and an empty lot that used to be a shanty , then this co-op, then another shanty and the Hell's Angels. Top that, Lower East Side! There. That's what I wanted to say. Why don't we just let you take over now?
— I'm not denying the importance of the context.
— There is no context. It's a non-neighbourhood. It's like the worst possible place to live in the city.
— It's hell. I mean –
— But now suddenly rich people are gonna move in.
— Not beside the co-op they're not, unless they're planning on building a condo there or something, but then it'd be beside the Hell's Angels. I mean, in many ways you're right to emphasize the streetscape location etc., because talk about relegating the poor to long-forgotten parts of the city.
— But the thing I like about the building is pretty much everything but the entrance.
— Let's have a look at the entrance there. Wow, that's a disaster.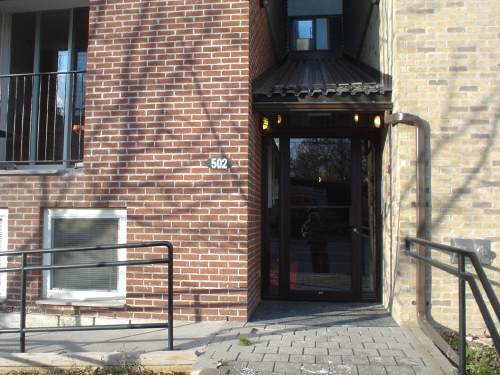 Entrance at ground level
JOE: Especially with the easvestroughing angled on the roof there. Good for sliding down the ice onto your face.
IAN: Well, no, actually, they've got that corrugated metal roof with some kind of ice guard on top of it, and then some kind of ice guard and the eavestrough, but even that's probably not enough. You know, they've got this commercial glass door squished and squeezed between the two huge blocks and under the terrible entrance roof.
— And the banisters for the ramp are the worst possible metal banisters. They aren't even trying. And the bricks and the concrete don't match.
— Where's the concrete that you're seeing?
— On the ramp side.
— Oh, yeah.
— Anyway, I love the four pods, which are apropos of nothing, and unlike the Maddy Harper Lodge, this doesn't seem like an architect's pet project that he finally got to do and it happened to be an Indian residence. This seems like the architect knew he could do whatever he wanted, so he did.
— I don't know if I get exactly what you're saying, because this does look like an architect's pet project. It has a definite style and definite references, architectural references, anyway.
— It's not something completely weird like a postmodern residence for Indians. It doesn't seem like a preconceived notion that somebody finally decided to fund. It looks like "This neighbourhood is the pits so I can do whatever I want." And they're using siding in an interesting way, as you said was possible last time.
— That's true about the siding and about the material in general, the colour. The breaks. The ascension from brick to siding to stucco.
— I don't think it's stucco. I think it's more siding.
— That one there, top, is definitely stucco.
[Shows another picture]
IAN: So it is.
JOE: Anyway, the construction-site picture –
— Taken from the rear?
— Obviously. Looks like it could be anywhere on the planet that has snow. It could be a suburban development. That proves to me that there is no interest in context. It stands aloof from context.
— Thank God.
— I also find the windows kind of weird. You have these recessed almost shared balconies in the rear pods and your favourite punched windows in the front pods. Which overlook nothing.
— I would say that the front pods and the back pods have punched windows into the rear of the units into the little tiny courtyard which look into each other.
— That made no sense whatsoever.
— Anyway, the point is the front units and the back units each have these little punched windows that look into a recess or a court.
— The back windows don't.
— How do you know?
— I've been there? It's visible from the picture?
— How can you tell what's behind that?
— I can tell what's behind the rear pods, which, in case you can't tell which is which, have dark brown at the base. What's behind them is a laneway and the backsides of other houses.
— All right, in front, then. I'm talking about this courtyard, this vertical shaft. I would surmise that the front units and the back units both have windows looking into the shaft.
— I would too.
— Confusion about front and back aside, this is a totally postmodern building, without question. It not only has all of the, or many of the signature elements of the postmodern residential building, it's also playing into a type that seems to be developing, at least in this area, for small-scale subsidized housing. And that's what I was trying to get at with the comparison to the other buildings. The single sliding door going out onto a balcony, whether recessed or not, repeated all the way up the building. Same as Maddy Harper and 907, I think it is. Anyway, that doesn't make the building uninteresting or inappropriate.
— Here they had the courage of their convictions, though, and they went all the way and really gutted them down the middle, though I see that the back halves are wider. You can't see all the way through from the front to back.
— No, I probably think that's a hall, circulation, landing, something like that. I really hope that the lower square windows don't open into a unit. You know, why bother? It's just the most terrifying feeling to look at the feet of the Hell's Angels walking by, or the wheels of their bikes.
— Or the garbage.
— Or the garbage, yeah. I believe this one is taller than the other small ones, right? It's four storeys, or 4½. And, you know, the architect does a good job of scaling the building to diminish the impact of its height.
— I don't get why there's bedsheets or something sticking out of the top balconies.
— Well, we've seen this before, right? Some people put their junk out there, and some people seem to be trying to put a screen on the open railing, which I can't entirely blame them for. This building is facing relatively south, and it's practical for the balconies to be recessed, and it also adds, you know, or at least takes away from the flatness of the blocks.
— I was just trying to say that this really is subsidized housing and that's a sort of Cletus and Brandine thing to do.
— Well, maybe – "Ian laughs." All right, well, I'm gonna offer a somewhat personal opinion/observation.
— Mm-hmm.
— I think your skills and interest in photography have improved to the point... hmm. Well, you are also looking at buildings more architecturally, or architectonically, as they say. Anyway, you've come to the point that you can take these pictures that can actually make the buildings look beautiful, successful, well balanced, etc., etc. It's really one of the tricks of architecture today. You know, a building is nothing without its photos.
— And its own publicist.
— And in looking at this last photo of the whole building, I think we both agree that there are sort of some flaws that really make you think twice about this as a beautiful building. The biggest flaw has to be where it's located. I can't believe they've stuck these poor people down there, literally poor. I mean, look, there's interesting play between volumes, materials, textures, colour, hierarchy. But that's all an architectural sort of pastiche, you know? Why would someone that needs a roof over their head care about that more than they would care about being two doors down from a biker gang?
— Or right next door to a "notorious" leather bar. Which was really worse? The bar made noise every night.
— That's true, you know, and because the bar's closed now, I don't think of it as an issue, but I guess it was, eh? Anyway, we've talked about Eastern Ave., especially about the last building that was right at the intersection. It's just so quintessentially anti-residential. It is not where people live, or should be.
— And the best part is there are homeowners there.
— That's true, isn't it? Like the house right next door. Next door or two doors?
— Next door. But that one is more typical of the street but not as desirable, because some of them actually have nice gardens. That one has this old codger sitting in front of it sometimes. What I would want out of this is for the middle stratum to be on apartment each, a two-storey apartment. That would be interesting. Then you could really have an impression of the volume of space you're taking up, since it's so precisely outlined on the exterior. But that's just speculation. And I always like to think of those things. Like lying in bed mentally projecting outward to sort of visualize the space you're occupying.
— You can't do that on one level?
— Well, it's less tidy, here, right, because of the colours and the lines.
— Oh, I see. You would want the interior to better reflect what the architect's doing on the outside?
— Well, pretty much. And I'm pretty sure that the earlier photo really does have boarded-up windows on the bottom, which they fixed. Bit scary.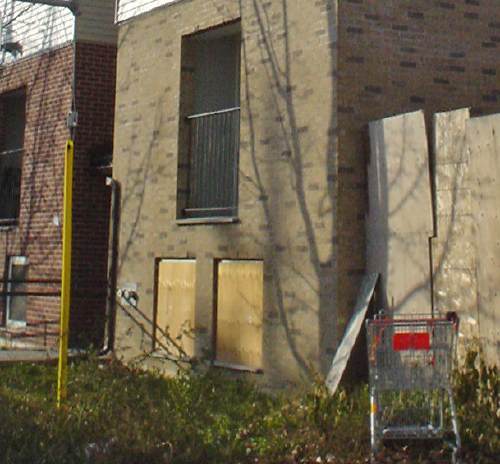 Boarded-up windows? (And whose shopping cart?)
IAN: Good for them. But you've got to wonder, did somebody kick them in, you know? Did a bolt come flying off a Hell's Angels motorcycle? Now, we've discussed this neighbourhood in terms of Eastern Ave. and I think there's a lot of potential on other parts of the street – possibility of a new development, although that's quashed now, isn't it? What's it called? Foundry District? It's just this particular block, seems very little hope for it unless they can get rid of the Hell's Angels – hate to say it, terrified for my life.
JOE: Well, they have a Web site and everything and they aren't even hiding in plain sight, they're just in plain sight.
— Yeah. The building is yellow!
— They didn't used to have the same signage. They didn't have the tacky checkerboard signage, and it used to be a different name other than Hell's Angels, but then they decided to go for truth in advertising, I guess. And in fact they did drop into the Toolbox now and then for a beer. It was, after all, the local bar, and who could really tell them apart?
[Ian laughs]
JOE: Yes, I agree with what you're saying , to a certain degree.
IAN: Write that down! Yeah, about the typology, right? What would be the word in linguistics? Morphology, maybe.
— Morphology.
And then, at long last, the Hell's got raided
(UPDATE, 2007.04.08) On Wednesday of last week, as part of a three-province operation, the cops finally raided the Hell's Angels on Eastern, a couple of doors from these pods.
And of course we went down there right away to take pictures!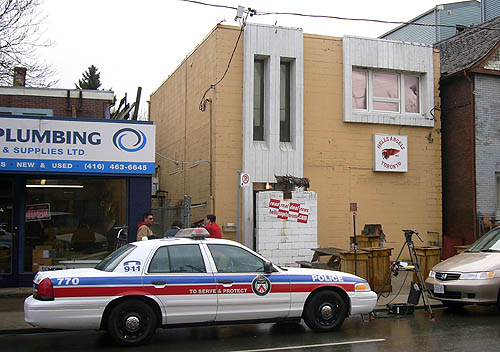 After the raid, with more camera crews than cops. Note the bunker-style protection around the front door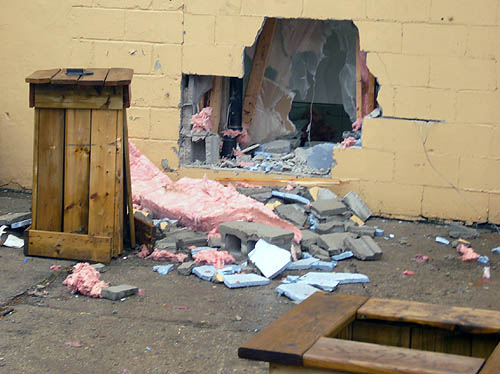 And that's how they got in – by busting a hole through the wall (into a bathroom, ostensibly). 'Planters' – surely not embedded securely into the ground to prevent battering by an armoured vehicle – sit untouched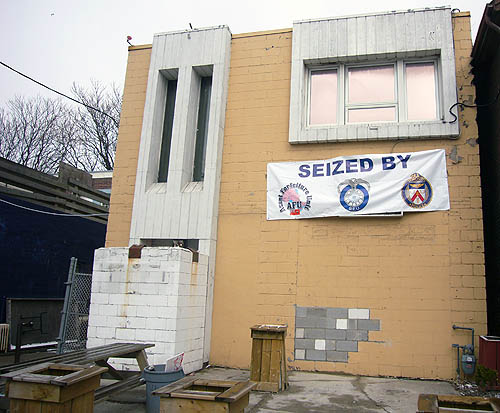 A day later: The hole is bricked up, and all gargoyles and signs are removed