137 Sears & 29 Louvain
This week, two buildings I mistook for clones.
137 Sears St.
Where, exactly?

137 Sears St. east of Laing (and south of Memory Lane)

Who owns it?

Woodgreen

How many units and residents?

17 RGI units: 11 bachelor (semi-furnished); 6 one-bedroom

Architectural and building history?

Built 1995
A well-hidden building on the stub end of a street that is itself so well-hidden you could allegedly run a marijuana distributorship from there. (Woodgreen claims it allegedly happened across the street at 136 Sears St.)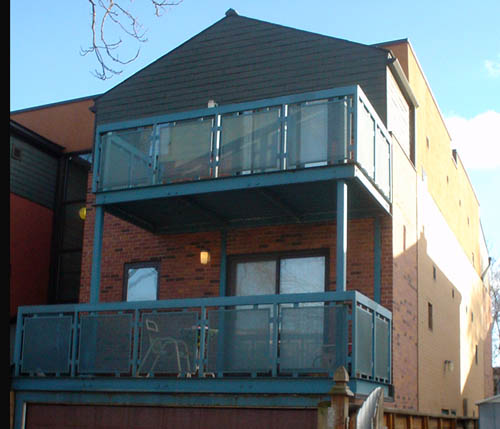 Westernmost pod
JOE: So these are the clone buildings, sort of like Eastern and Coxwell. The one on Sears is the one with the alleged marijuana "compassionate club" from like two years ago.
IAN: Can we have a look at – can we just go through the pictures? So that's looking at the end of the building?
— That's the side.
— These strange sort of wooden-looking screens on the ends of the blue balconies. Hmm.
— Well, that's obviously the tenants, right? Anyway, this is not a great picture.
— No, I'm just wondering what these are made of, that's all. OK, so each unit has this garage, or is this the entrance to an underground parking?
— I didn't even know that's what it was. Surely it's the only one in the complex.
— That would only make sense, but I think you've mentioned, in this picture, it looks like a garden home or townhouse. You're even calling it a pod.
— And the wall behind there is in some weird inevitably "postmodern" colour and porthole-window –
— Two colours, the yellow up top and the sort of peachy colour below, and the punched windows. It's also less expensive than uselessly cladding the side of the building that nobody's going to see in brick.
— I think the bright blue balconies are terrible.
— They're more of a steel blue. I guess I would want to know why you think they're terrible.
— It's great that they're huge and everything, but they're too bright compared to the brick and the grating is too fine, to it tends to obscure the face of the building.
— Well, I think the building itself has this dark, multicoloured brick, and I think the balconies make a good relief from that. Um, they're far less solid than balconies could be, or at least the guards are far less solid than they could be. They look like the colour of the sky. They're fresh-looking, they're clean-looking. I like them. They're substantial, you know, with the posts holding up the top-floor balcony. Brown and blue isn't done that much.
Central pod
IAN: OK, it's a little different in this picture. Yes, quite different. In fact, is that rust on the top balcony?
— I dunno. Anyway, the building has these three pods, essentially.
— I can't believe how completely different the building looks in this picture. The last picture hid some of the really nasty qualities: This glass separation, which was a good idea in terms of massing, makes the thing look pretty institutional, and the concrete-formed piers are exposed; they aren't finished properly. I'm assuming that's a ramp going down. But certainly the space underneath the balcony does not look very pleasant. In the last picture it looked like, you know, residences, homes; now it looks, in this picture, much more like an institution. They've gone to the effort of putting a gable roof on the pod and it's kind of redundant because you can see the mass of the building behind it, so it just looks like a little game.
— That's the entrance, by the way. Subterranean.
— Ah. And that's a ramp.
— That's a ramp.
— And the steps going up on the left?
— That I don't know.
— Maybe that's the marijuana sympathizers. See, in this picture, once you take a picture of it and don't show how it meets the ground, it works a little better.
— Mm-hmm.
— Just a little, though. In this one we're seeing all three pods and they look like these kind of, you know, industrial sheds. You half-expect loading docks on the main level. What is that? Do you know?
— Isn't that just a window from a very unfortunate ground-floor resident?
— Isn't it rubbish down there, or planting? Anyway, it doesn't appear to meet the ground very well. What's on the opposite end? Is it the same configuration of three pods?
— No, it's one pod. There are only three.
— I know, but I should say, if this were the front, do we have any pictures of the back?
— No. I couldn't get in there.
— Can you describe it a little bit?
— Nope. I don't have a clue what it looks like. Sort of like the side view, I guess.
— Yeah, but that's showing the balconies. There's gotta be something – I mean, the building's very deep. What does it look onto at the rear, do you know?
— I seem to recall it's the backside of houses, I think the ones on Eastern.
— Do you remember seeing blue balconies, etc.?
— No. I don't think I have any more ways to tell you that I don't know what the back looks like.
— It's very strange. So they come in from Sears and they drive down into the underground parking. They front onto this little alleyway and it doesn't look like there's much room for them to back on to something else. It's great that the alley is being developed but it doesn't seem to show much respect for the buildings around it, except for that it's not too tall.
— Well, I'm tired of talking about this one, so let's look at the clone.
29 Louvain Ave.
Where, exactly?

29 Louvain Ave., just north and east of Queen and Pape, behind the behemoth that is 1070 Queen East

Who owns it?

Woodgreen

How many units and residents?

51 units, comprising 25 RGI and 26 market-rate: 8 one-bedroom; 4 one-bedroom wheelchair; 17 two-bedroom; 22 three-bedroom

Architectural and building history?

Built 1993
JOE: Louvain, the street one up from Queen running off Pape. It's even shorter than Sears St. but is of course much classier because it has a French name.
IAN: Which is probably pronounced "Louvayne." OK. Does it have any presence on a major street like Queen or Pape, front, side, back, whatever?
— No, it has a shared courtyard behind it with 1070 Queen, which is the block-long monstrosity. I don't have pictures of that right yet. I'm also not convinced that this is really a clone of the other building.
— Of the pod building? It doesn't appear that way. I just want to look through the pictures. How do I get back to the main menu? No, this is – aside from the gables occasionally, it's a completely different building.
— Shows you how much I know, then.
— Well, what made you think they were similar?
— It's pointless to even go over it now since I was totally wrong. Anyway, the good thing about this building is that from the rear it looks like a nice happy "community," if I may use that word. The scale and the usage and the little courtyard make it feel like a nice and cohesive place to live. Unlike the monster right across the courtyard.
— So I take it this is the rear of the building that we're looking at now?
— Mm-hmm.
— So the trees and foliage; some separation; we see that the sun is able to get at the building, nothing else is in the way, like another building. Nice big windows. Each balcony is slightly different from the one next to it. I don't know if it's effective, but it looks good. Bay windows. I think this is a much-larger-scale building than the one we looked at. Four floors. Personally, I like the colour of the brick. You must, also, because it's not buff.
— And it has the playground 'n' shit, you know?
— It's pretty restrained. The pediments with the – maybe I spoke too soon.
— That's the rear-entrance tower.
— The rear entrance? Well, you know, it's nicely, whatever.
— But my thing is they cared enough about the backside to have its own entrance tower. So imagine –
— Well, let's just say they cared enough about the building to articulate the back entrance, but all the articulation is going on above; it's not going on the entrance itself, which has a poky little awning and glass doors. I think it's a nice picture. I think it's well-proportioned and it's nicely detailed, except the entrance itself.
— So imagine 20 years from now and they tear down 1070 Queen because they want it for commercial real estate. Or they just tear it down because it's an eyesore.
— If it even lasts that long.
— Well, suddenly this building has a functioning entrance on Queen St.
— Removed, you know, by the depth of the lot of the building in front of it. And it would also have a replacement building built, but yes, it could be worked out. That would be really interesting. You know, say there was a separation between two buildings, and this entrance led down a path to Queen. That would be really neat. Can we see the front if this is the back?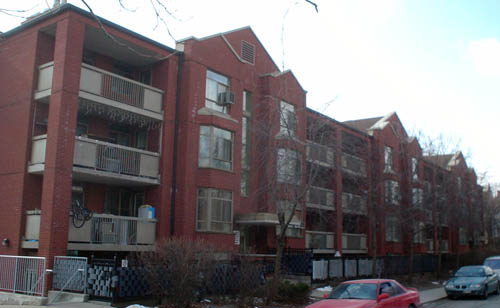 Front view (salvaged from other photo files)
JOE: No, apparently not.
IAN: Yikes.
— I went on two different reconnaissance missions to this building. The front pictures didn't turn out and I'm not doing it again. I'm just not.
— Can we see that picture? Looks like it has some context. Hmm. So this is the rear again?
Playground
IAN: "Eastern edge and playground." It's not a small building. I dunno – looks great. It's... little playground. I'm assuming these tidy garages are from these private units here, but I dunno. It doesn't seem to be overwhelming its surroundings and, um –
JOE: That's the back, 1070. Different class of people living there.
— How so? I mean –
— The people on Louvain don't feel they have to shield their balconies with tarps. That's how.
— You think it's a design flaw? Anyway, we're talking about a different building. It almost looks like the windows are leaking or something and people are having to protect against the rain. It's certainly not a reflection on the class of the people as much as the quality of the building. You can tell by looking at it.
— Well, this has been our worst-ever critique, because we're four days late and an enormous effort in taking pictures still didn't produce enough of them. So I have had quite enough.